26 février 2007
CHINA AND TIBET BY PICTURES...

Have a good trip!



Departure from Lyon...
picture with my lil' mum'!: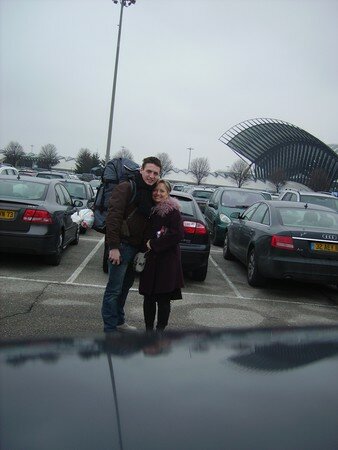 Alpes: view from the plane:
---

And 10 hours later, BeiJing City: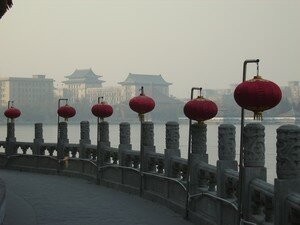 A kid with China's flag. It's on Tian'an men square: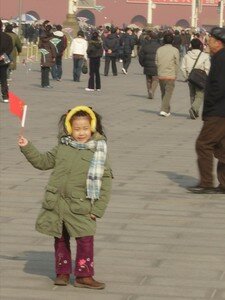 Yes, chinese labourers semes to be pride!...brain wash education, welcome to China!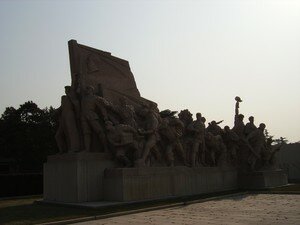 So,what da f...!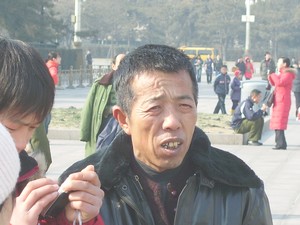 What are we gonna to today?...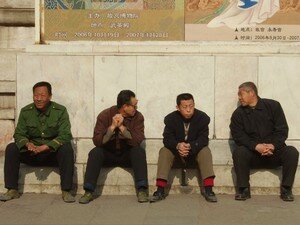 ---
Just before the entry of the forbidden city:
The entry with "big" Mao: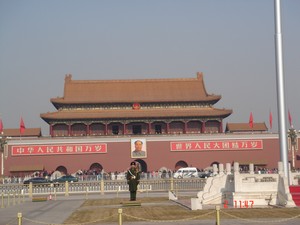 And inside...temples, huge squares and no so much tourists! It was great!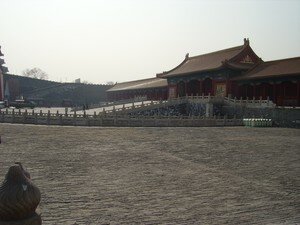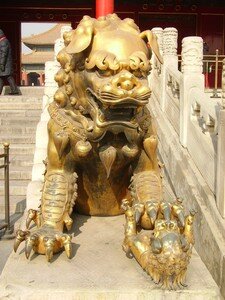 ---
A men writting chinese on the floor with water...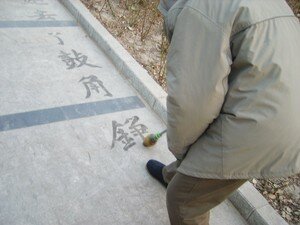 ---
This is the great wall: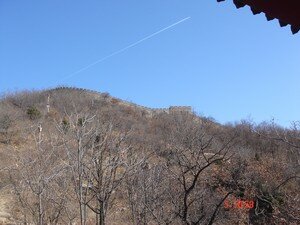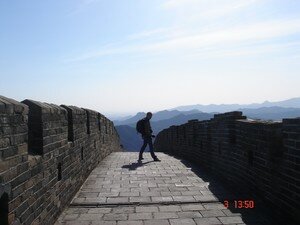 ---
Chinese bicycle in the "hutong"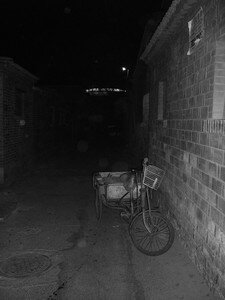 ---
The white pagoda near the forbiden city: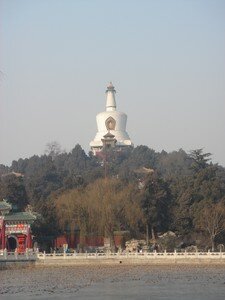 And the little prince...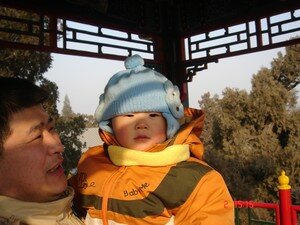 ---
After that, we got a train ticket to lasa Tibet!
389 yuan (=40€).Hard seater.
Seats are not so hard but 48 hours seat it's lil' bit hell!!
No permits are asked in the railway station, even in the train and in Lasa!
The West train station of BeiJing:


And in the train...
View from the train (between Xi'an and Golmud):
2kids, Yuya from Japon and Tibetan girl:
We met Yuya in the train, he was travelling alone and looking like chinese people, but he did not know mandarin!
So it was little bit hindering for him!
Once we got Golmut, people were differents and we knew that we were going in a unknow Country...
Yak's smell, Tibetan people with tradional clothes...
Grand'Pa and Grand'Ma sleeping in the back. A mum with her baby in front: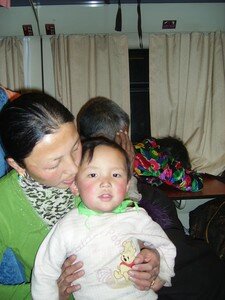 Crazy kid playing with water...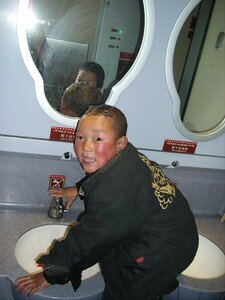 View from the train, the beggining of Tibet...
We were just enjoying the view, the nose on the windows!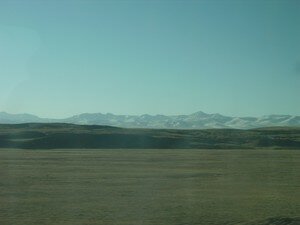 Watching some backwater...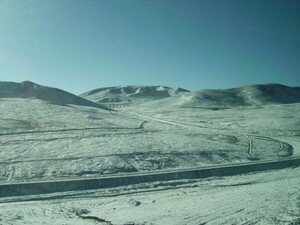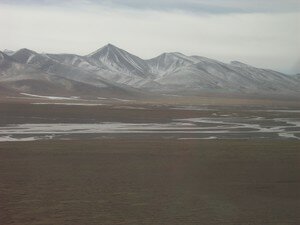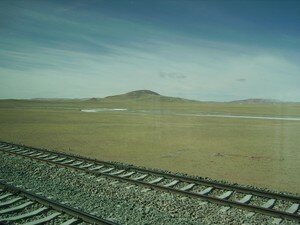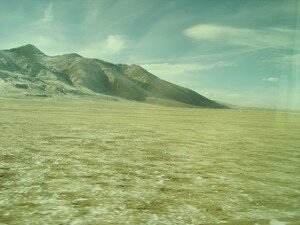 ---
And 48 hours later...lasa city, capital of Tibet, Alt: 3500m!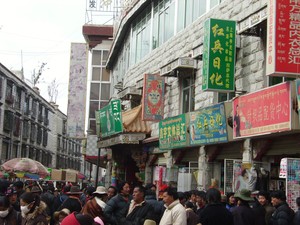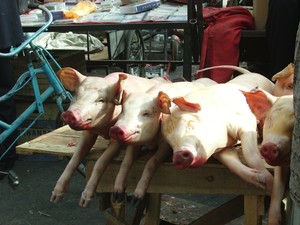 In order: Yuya, me, Guang lei, Alex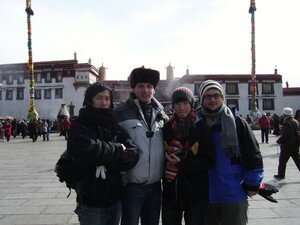 People praying in the Jamkang monastery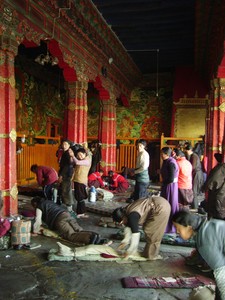 A lot of people are always holding the "zhuan jin tong" on the right hand and a necklace on the other one: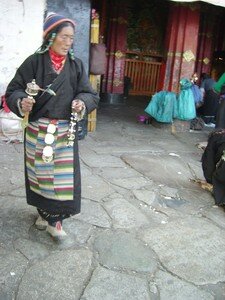 Houses: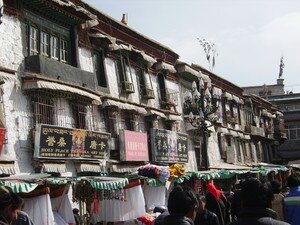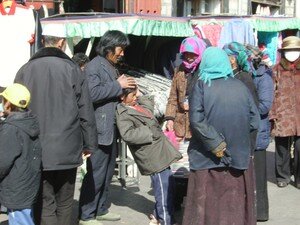 View from Jamkang square: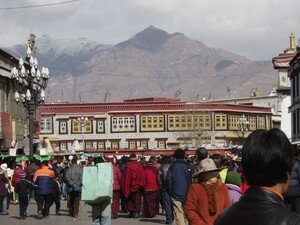 People turning around the monastery: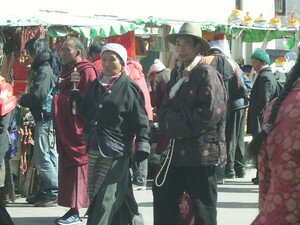 Man carrying up stuff: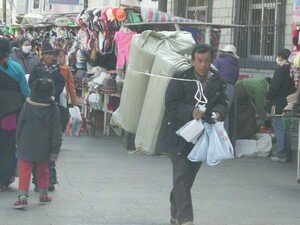 ---
A lil' baby playing alone near Sera monastery:
On the way to Sera monastery: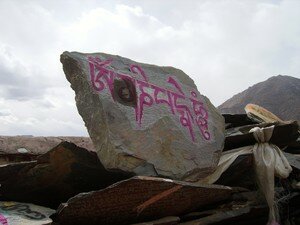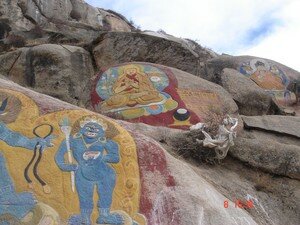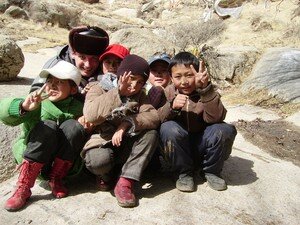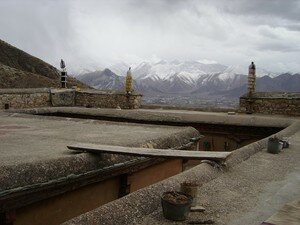 ---
One the street, trucks full of yaks and sheeps: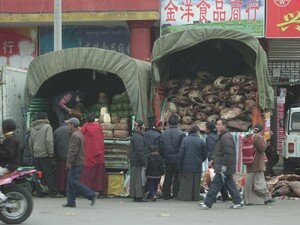 Tibetan heads:

---
The Potala Palace: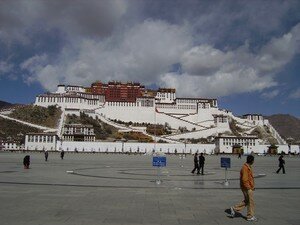 In front of Potala palace, a Tibetain family wanted a pictures from them!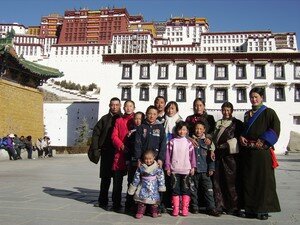 Afterward, it was forbiden to take pictures.
Inside, people are praying every where, The Lamas are reading books and there is like 10 tombs (tombs of dalai lamas) made by gold and one tomb it's nearly 3000kg of gold! Guang Lei told me: "one Potala can change one Shanghai"...when you get inside, you understand why...!



Potala with a note of 50 Yuan.
Potala is draw on this note!

A family waiting for something near the exit:


...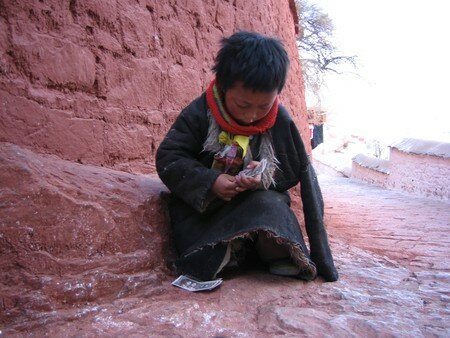 Still praying...:

---
2 hours from Lasa, Ganden monastery, Alt 4500m: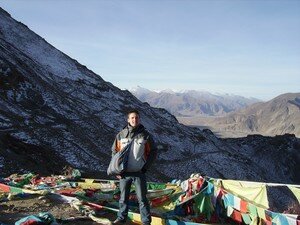 A aluminum parabola to make hot water for free!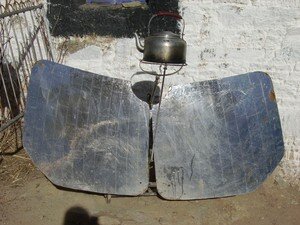 Lama reading and praying in Ganden monastery: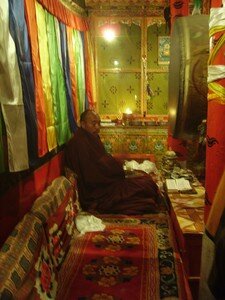 View from Ganden monastery:
---
This is the 4x4 we rented for 3 days...Trip in the Himalaya:
The "team" (Chung took the picture that why he's not there!)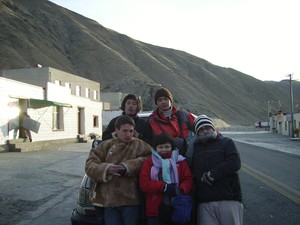 You just have to enjoyed the view...
Second day: 8km walking until the Everest base camp:
Here, it's Mont Everset. The top is 8848m! we were walking on 5500m!

Yuya (duo shao qian?...Tai gui le!...he'll anderstand!...flip flop and 200 yuan!!!):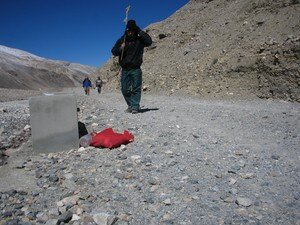 Where the hell do you wanna go?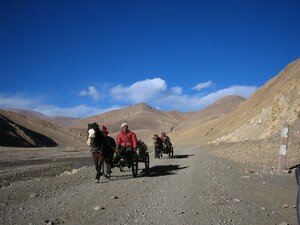 Third breackdown...look at the wheel!
(the first was the choc absorber and the second one, we just lost a hudge piece of metal!)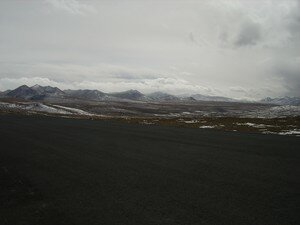 I met them when I was walking alone..)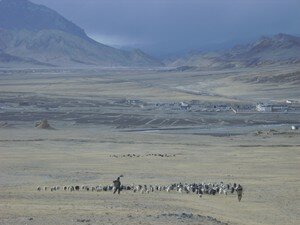 During the first night, around -5°C in the room: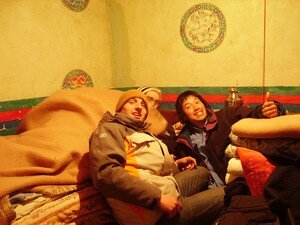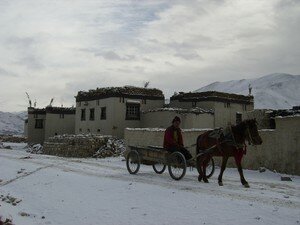 view from a peak...the hudge one is Everest...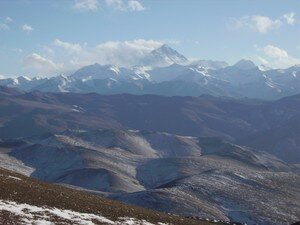 Tibetain toilet...I'm telling you, you just give a quickly shit and you get out of there...smell is hell!

Last day in Lasa, afterward Yuya went to Chengu, Alex and I to Xi'an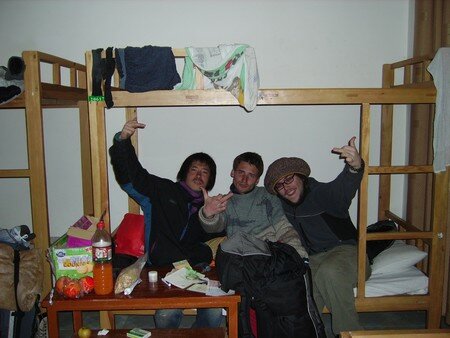 ---


No pictures from Xi'an...the cause is I did not enjoyed Xi'an. Xi'an is just a tourtist attraction.
And Chinese were in holiday...so imagine 1.3 billion chinese in Holiday...people every were!
The muslim quarter of Xi'an was great: lot of meat and cookies...One Mosque realy beautifull and the quarter is very popular...but for me, that it for Xi'an.